Indonesian cartoonists keep up with competition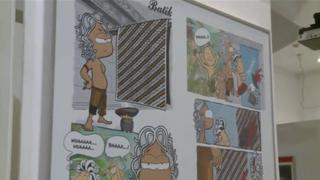 Surjorimba Suroto sighs as he recalls the good old days of Indonesian comics.
Wistfully leafing through pages at his local comic store, he explains that there was a golden era from the 1960s to the 1980s when many titles were household names.
Rather than superheroes, they focused on Indonesian life and folk tales.
However, today local comic sales have taken a beating. Sadly, Mr Suroto says, they are just not cool any more.
Younger readers now seem to prefer the work of foreign firms such as US-based Marvel and DC Comics, or styles and characters such as Japan's Manga and Naruto.
"These days a young boy has to have a Superman or Naruto comic magazine on his shelf, otherwise no-one will want to be his friend," Mr Suroto says.
Religious comics
But despite this bleak prognosis, over the past five years, fresh blood has been injected into Indonesia's comic culture.
Keen to create their own, more home-grown, voice and images, a number of young Indonesians are finding innovative ways to draw in an audience.
And they are being noticed.
At the Goethe Institute in Jakarta, an exhibition of Indonesian and German comics was held this month to showcase the work of up-and-coming artists.
Gracing the walls were drawings by five of Indonesia's most popular comic book artists, who are trying to change the way Indonesians view local comics.
Some focused on characters influenced by Javanese mythology, while others had a more modern take on Indonesian life.
One of the featured artists is 30-year-old Veby Surya Wibawa, more popularly known as Vbi Djenggotten.
Garbed in the ankle-length trousers usually worn by conservatives in Indonesia, Vbi also sports a beard - another hallmark of the traditionally orthodox Muslims in the country.
The author of works including Married With Brondong (Married to a Younger Man) and Aku ber-Facebook Maka Aku Ada (I Facebook, Therefore I Am), he has connected with his Indonesian audiences by talking to them about their religion.
His most recent comics series, 33 Pesan Nabi (33 Messages from the Prophet), tries to explain the ancient teachings of the Prophet Muhammad to his followers in a modern-day context.
Vbi is one of few comic artists in Indonesia to have tried this approach.
The comic book is now on Indonesia's best-seller list - a testimony to its popularity among young people. It will also be published in Malaysia soon.
"I wanted to show people that Islam isn't a religion of bombs and violence," Vbi said, at his studio in the city of Malang in East Java province.
"That's all anyone sees these days. I hope through my art people will see a different face of Islam."
Unconventional approach
Vbi is aware that his approach may be frowned upon by some more conservative sections of society, especially at a time when other countries have been criticised for their portrayal of Islam and the Prophet Muhammad in both cartoon and film form.
A tenet of Islam bans the portrayal of its founder, and there have been violent, deadly protests across the Islamic world after an amateur video mocked him.
At the same time, a legal complaint has been filed in France against a satirical magazine, Charlie Hebdo, which published obscene cartoons of the prophet.
"I know that in Islam drawing or making caricatures is conventionally frowned on," Vbi says.
"But I don't believe that I am doing anything wrong. And I am doing it with the intention to help, not harm."
Vbi firmly believes that his popularity lies with a desire on the part of Indonesian youngsters to know more about their faith.
And he feels that it is this local flavour, as well as his focus on Indonesian themes, that will help young cartoonists do better in the future.
Character-driven
But while Vbi may have seen relative success by using these techniques, Indonesian comic artists are still not seeing anywhere near the popularity that foreign titles enjoy.
Fans say it is because local artists still need to work on their storytelling and character development.
At the comic store, Mr Suroto is certain about what is missing.
"You look at the stories in Marvel Comics or DC Comics," he explains.
"You don't want to read them just because of the story - you want to read them because of the characters.
"The character stays with you and enters your heart - and that's why you keep buying more comics about him or her. You keep coming back."
Comic artist Vbi is certainly in it for the long haul, and he has chosen to be an artist despite the ups and downs of such a career. And along the way, he also hopes to stand up for his faith.
With a smile, he says that he may just have the best response to the cartoons that have resulted in so many protests in the Muslim world.
"When you're attacked by a comic, fight back with a comic," he said.