Western Australia to kill sharks threatening beachgoers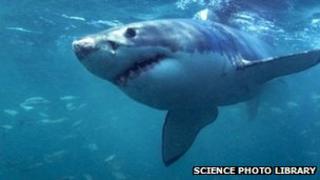 Western Australia has set out measures aimed at reducing the risk of shark attacks at the state's beaches, after a string of deadly incidents.
The A$6.85m ($7.12m, £4.41m) package includes funding for catching and if necessary killing sharks "posing an imminent threat" to beachgoers.
Other funding is allocated to tagging and research programmes.
There have been six shark attacks on swimmers and surfers in the state this year, five of them fatal.
The most recent was last month, when a man suffered abdomen and arm injuries in an attack about 1,000km (600 miles) north of state capital Perth.
The series of attacks has prompted calls for a shark cull, but the authorities have ruled out that option following protests from environmental groups.
Several of the recent attacks are believed to have involved great white sharks, which are protected.
In the past, fisheries authorities had only sought to kill great whites in response to an attack.
Now they would be allowed to take "proactive action" if a shark presented an imminent threat to people, a statement said.
Tagging systems that included the use of real-time GPS tracking would also be funded, as would more research, jet skis for lifesaving and a community awareness programme.
"These new measures will not only help us to understand the behaviour of sharks but also offer beachgoers greater protection and confidence as we head into summer," State Premier Colin Barnett said in the statement.