Cambodia jails journalist Mam Sonando over 'plot'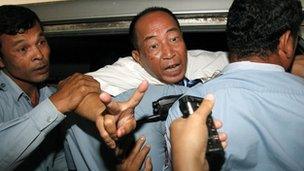 A Cambodian court has jailed a prominent journalist and land rights campaigner for 20 years on charges of inciting rebellion.
Mam Sonando, who runs the independent Beehive radio station, was also fined over the alleged plot by villagers in Kratie to form their own state.
Prime Minister Hun Sen demanded Sonando's arrest in June.
Rights groups say that the conviction is part of the government's continuing campaign against its critics.
A court judge said that Sonando had been instrumental in inciting villagers to try to form their own state in the eastern province in May.
But human rights groups said that the clashes between government troops and villagers occurred as they protested over land seizures by companies.
"Our court has announced a verdict that is politically motivated," Ou Virak, president of the Cambodian Centre for Human Rights, was quoted by Agence-France Presse news agency as saying.
Amnesty International also called the conviction "absolutely outrageous".
Sonando is the president of a pro-democracy movement and a long-time critic of Hun Sen, who has been in power since 1985.
His radio station allows dissident opinions against the government.
"I am happy that I have helped the nation," he told reporters as he left the court.