North Korea soldier 'defects to South'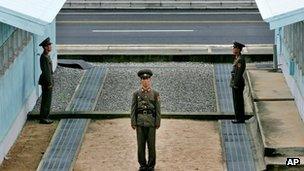 A North Korean soldier has defected to the South across the two countries' heavily armed border, South Korean officials have said.
The soldier said he shot dead two officers before crossing over just after noon (03:00 GMT) on Saturday.
Our correspondent says defections across the land border are rare. The last soldier fled in 2010.
More than 20,000 North Koreans have gone to the South in the last 60 years, mostly via China and SE Asia.
The two countries are still technically at war after the 1950-53 conflict, which ended in a ceasefire not a peace treaty.
The soldier was quoted as saying that he killed his platoon and squad commanders while on guard duty.
A defence ministry official said six gunshots were heard and guards saw the soldier cross the demarcation line on a western section of the tightly guarded border.
They used loudspeakers to establish that he wanted to defect and guide him to safety, they added.
The official said he was in protective custody and was still being interrogated.
There has been no confirmation of the North Korean casualties and no unusual activity observed on the North Korean side of the border.
The BBC's Lucy Williamson in Seoul says that about a million soldiers and a million land mines line the Demilitarised Zone, and only a handful of people have crossed from North to South by land in the past few years.
Most make their way to the South by a long and dangerous land route, she says.
This takes them through China and on to countries such as Thailand or Mongolia.