South Korea expands ballistic missile system range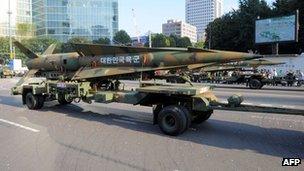 South Korea has announced a deal with the US to almost triple the range of its ballistic missile system, saying this will counter the threat from North Korea.
The whole of the North, along with parts of China and Japan, will be within South Korea's new 800km range.
South Korea had been restricted to missiles with a range of 300km under a previous security deal.
It was revised after North Korea tested a long-range rocket launch in April.
The US has more than 28,000 troops in South Korea and provides security guarantees for its ally.
A spokeswoman for President Lee Myung-bak said there was no imminent change of strategy, but the new agreement was a political symbol of the strong alliance with the US and a deterrent to Pyongyang.
"The biggest purpose of the revision is curbing military provocations by North Korea," said another official, National Security Adviser Chun Yung-woo.
Under a 2001 accord, South Korea had been prevented from developing and deploying ballistic missiles with a range of more than 300km (186 miles) because of concerns this could trigger a regional arms race.
The new deal puts North Korean military facilities which were previously out of range within reach, as well as parts of China and Japan.
It will also allow South Korea to triple the payload from 500kg for missiles over shorter distances.
Correspondents say Seoul has for a long time argued for an extension of the range limit, but this took on greater urgency earlier this year.
In April, North Korea conducted a failed long-range rocket launch that it said was an attempt to put a satellite into orbit.
Critics said the launch was a disguised test of missile technology, banned under UN resolutions.
Three weeks ago, the US and Japan agreed to set up a second missile defence system on Japanese soil in response to the North Korean threat.