Maldives arrests former president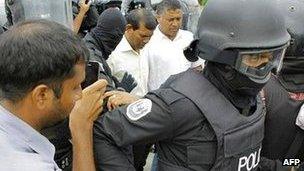 The former president of the Maldives has been arrested for ignoring a court summons and travel ban.
Mohamed Nasheed, who resigned in February in what he said was a coup, is accused of illegally arresting a judge.
A court issued the warrant for his arrest after he failed, for a second time, to turn up to his trial.
The former human rights activist, who won the archipelago nation's first democratic elections in 2008, denies the charges against him.
He says the trial is politically motivated.
A conviction could disqualify him from contesting future presidential polls.
"Nasheed has been placed [under] custody now according to the court order issued yesterday," police spokesman Hassan Haneef told Reuters on Monday.
He added that Mr Nasheed co-operated with the arrest and would be taken to Male where he is expected to appear in court on Tuesday.
He said doors had been broken as the house where Mr Nasheed was staying was raided.
However, a spokesman for Mr Nasheed's party, Hamid Abdul Ghafoor, tweeted that the Maldivian Democratic Party leader had been "grabbed from protesting supporters" before being arrested and "taken away" from the southern atoll of Fares Mathoda.
"I also fear for his safety given the brutality shown by armed and covered police. We do not know where he is being taken," he told the BBC.
He said that said about 80 police arrived in three boats, wearing balaclavas, and arrested Mr Nasheed "very, very violently" and threateningly.
He was taken away in a speedboat despite protests from party activists, he added.
Mr Nasheed was on a presidential campaign trip through the southern atolls when he was arrested, the party said.
Mr Nasheed, who was succeeded by his deputy, Mohamed Waheed, has said he was forced to quit by threats of violence from rebellious police and soldiers.
But a domestic commission of inquiry - backed by the Commonwealth - has rejected his account, saying he had stepped down voluntarily.
The charge against him relates to an incident in January, when he was accused of illegally ordering the arrest of a judge accused of corruption.
Now the 45-year-old, once an Amnesty International prisoner of conscience, faces up to three years in jail or banishment to a remote islet in the popular tourist archipelago if found guilty.