Bali drug charges: Briton Rachel Dougall in court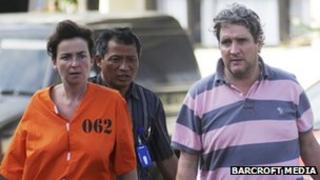 One of four British citizens facing drug-related charges in Bali has made her first appearance in court.
Rachel Dougall has been charged with possession of drugs and failure to report a crime.
The latter case relates to her partner Julian Ponder who has been charged with trying to sell the drugs.
The couple, plus Lindsay Sandiford and Paul Beales, were arrested by Bali police in May for allegedly importing 4.8kg of cocaine worth £1.6m.
According to prosecutors, the crimes Ms Dougall has been charged with carry sentences of between four and 12 years for drug possession, and a maximum of 12 months and a $5,000 fine for failure to report a crime.
Ms Dougall was charged with possession of nearly 50 grammes of cocaine, the AFP news agency reported.
Prosecutor Putu Astawa told Denpasar district court: "In a police raid at the defendant's villa, police found a cigarette package containing 48.94 grammes of cocaine in her bag."
Mr Astawa said that "no evidence" was found that Ms Dougall had ordered five kilogrammes of cocaine as mentioned earlier by Mrs Sandiford.
Mrs Sandiford, from Gloucestershire, is charged with the offence of selling or facilitating the sale of more than five grammes of narcotics.
Mrs Sandiford said there might be inaccuracies in the prosecution's case when she appeared without a lawyer in a Bali court earlier in October.
She said she would respond to the charge at her next hearing, which is due to be on Wednesday.
The court will appoint a lawyer for her if she does not have one by then.
It was her second appearance without a lawyer. Her first appearance was immediately postponed because she did not have one.
Mrs Sandiford is being held with the other Britons at Bali's Kerobokan prison.
Mr Ponder has already appeared in court. His next hearing is expected to be on Thursday. He and Mr Beales face the same charge as Mrs Sandiford.
Ms Dougall and Mr Ponder are believed to be a couple from Brighton with a young daughter.