Vietnam bans 'lavish' weddings for Hanoi Communists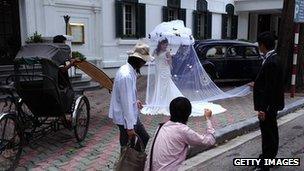 The Communist Party in Vietnam's capital, Hanoi, says it has banned members from holding lavish wedding parties following public complaints.
A government directive limits the number of guests each family can invite to 300 and a single wedding party should host no more than 600 guests.
Luxury venues such as five-star hotels should be avoided, the rules say.
The government has been criticised over financial scandals but some question whether the rules can be enforced.
The new rules are meant to apply to relatives of party members as well. Correspondents say hundreds of guests are traditionally invited to weddings in Vietnam.
But the statement issued by the government and signed by Hanoi Party Secretary Pham Quang Nghi says that "there is still a part of the population, state officials and party members, including key leaders at all levels, who organise ostentatious, extravagant, wasteful weddings".
It adds that such events have prompted anger among the public.
As a result, officials and party members have been asked to be "examples and pioneers" in ensuring that the wedding ceremony is "thrifty", reports the information ministry's Vietnamnet website.
And rather than arrange a series of events to celebrate a union, which officials say members did to get around previous restrictions on wedding celebrations, members are now to hold only one event and are "encouraged" to send announcement cards instead.
There are about 340,000 party members in Hanoi out of 3.8 million Communist Party members across Vietnam, according to official statistics.