Nepal hosts South Asia's first gay sports tournament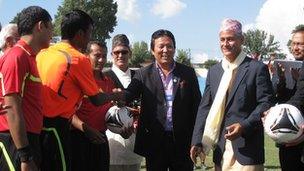 A gay rights group in Nepal is staging South Asia's first tournament for gay athletes, in the capital Kathmandu.
Organisers said more than 300 gay, bisexual and transgender athletes from 30 countries were registered to compete in the three-day event.
The festival aims to promote the rights of sexual minorities.
Homosexuality is illegal in many South Asian countries, including Bangladesh and Pakistan where those convicted can face life imprisonment.
In Nepal, homosexuality was decriminalised in 2007 with the end of the monarchy. Supreme Court judges have instructed the new democratic government to ensure equal rights for lesbian, gay, bisexual, transgender and intersex (LGBTI) people.
But activists say the Nepali LGBTI community still suffers from discrimination and abuse.
They want the government to allow individuals who identify themselves as transgender to be able to do so on official documents.
The tournament is being organised by Blue Diamond Society, a Nepali gay rights group, with the support of foreign embassies.
Blue Diamond said it would "prove that sexual and gender minority individuals are as much a member of society as anyone else and they can also take part in mainstream activities such as sports, contrary to popular misconceptions".
The event was officially opened by Greg Louganis, a former US Olympic diving champion who is openly gay. In his opening address, he urged participants to "keep up the spirit of sport".
Organisers said athletes from Bangladesh and Pakistan had registered to take part despite the dangers, alongside around 250 Nepalis and 100 from other countries including Russia and Denmark.
The athletes will not be representing their countries, but will be participating as individuals in events including athletics, football, badminton and basketball.
Related Internet Links
The BBC is not responsible for the content of external sites.