S Korean minister apologises for undetected defection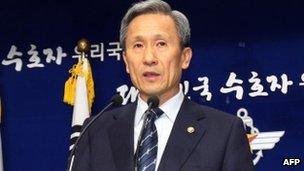 South Korea's Defence Minister Kim Kwan-jin has issued a formal apology over the defection of a North Korean soldier that border guards failed to spot.
The defector crossed the heavily-guarded border on 2 October and turned himself in to South Korean soldiers.
The ministry said 14 army officers had been disciplined, including three who will be court-martialled.
Correspondents say defections across the land border are rare.
"I acknowledge that the North Korean soldier's defection apparently shows the failure of security and flaws in the emergency reporting system," Mr Kim told a press conference in Seoul.
"I sincerely apologise for causing concerns to the people."
South Korean military officials initially said the 22-year-old North Korean soldier was spotted by surveillance cameras and guided to safety.
But a probe found he was taken into custody only after he knocked on the door of a South Korean guard post.
The defence ministry said the officers that were punished were disciplined partly for trying to cover up the circumstances of the soldier's defection.
More than 20,000 North Koreans have gone to the South in the last 60 years, mostly via China and South East Asia.
Last week President Lee Myung-bak issued a public rebuke to Mr Kim and urged him to punish those responsible for the incident, Yonhap news agency said.
Related Internet Links
The BBC is not responsible for the content of external sites.