China protests to South Korea over fisherman's death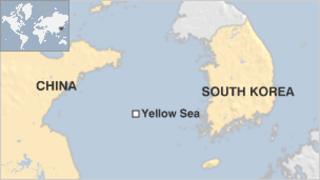 China has protested to South Korea over the death of a fisherman killed after coast guards shot him with a rubber bullet during a raid.
The coast guards were stopping Chinese boats fishing illegally in the Yellow Sea on Tuesday, South Korean officials said.
The man, who fought back with a knife, died after being taken to a nearby hospital, the officials said.
There have been several clashes over illegal fishing in the Yellow Sea.
The Chinese embassy in Seoul has asked for the case to be investigated ''seriously and thoroughly'' and ''to protect the legal rights of Chinese fishermen'', China's state-run news agency Xinhua news reported.
A Yonhap news report identified the deceased as a 44-year-old surnamed Jang. The coast guards, the report also said, said the rubber bullet was ''intended to be a non-lethal instrument''.
"The raid officers fired the rubber bullet in the face of a harsh protest by the Chinese sailors," said a coast guard official.
The Yellow Sea, between China and the west coast of the Korean peninsula, is rich in crabs and anchovies.
The South Korean coastguards say they stop hundreds of vessels illegally fishing in South Korea's Exclusive Economic Zone every year.
The Chinese fishermen caught in the area are usually released after paying a fine.
However, some attempts to intercept fishing boats have ended in violence.
In December 2011, a South Korean coast guard died after being stabbed in a confrontation. A Chinese fisherman was sentenced to 30 years in jail in April for the killing.
Just a week after the sentencing, four South Koreans were injured in a clash with Chinese sailors armed with clubs and knives.