Tamil Tiger leader Selvarasa Pathmanathan a 'free man'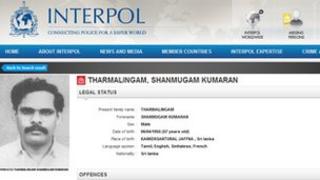 The Sri Lankan authorities say that the senior most surviving Tamil Tiger leader, Selvarasa Pathmanathan - also known as known as "KP" - is a free man.
They say there are no longer plans to lay any charges against him.
Media Centre for National Security head Lakshman Hulugalle told the BBC there was "no case" against Mr Pathmanathan.
Most of the rebel leadership - including its top leader Prabhakaran - was killed amid heavy fighting at the end of the country's civil war in 2009.
Asked if Mr Pathmanathan was any longer in detention, Mr Hulugalle said: "Practically, there is no detention now."
Mr Pathmanathan is on Interpol's "wanted" list: the international police organisation says he is sought by India on charges of terrorism and of crimes involving the use of weapons or explosives.
The government's announcement has been criticised by the opposition United National Party (UNP).
UNP spokesman Deputy Secretary-general Jayalath Jayawardana described Mr Pathmanathan - who was outside Sri Lanka when the war ended in May 2009 - as a "wanted criminal".
Mr Pathmanathan was named the rebels' leader after the death of Prabhakaran.
But he was returned to the country in mysterious circumstances in August of the same year.
Reports said he was detained in Malaysia, possibly with the involvement of Sri Lankan intelligence, and then brought back to the island in what some called a case of "extraordinary rendition".
At the time state television said he was suspected of smuggling arms and drugs, conspiracy and "terrorist fundraising".
He had served as the Tamil Tiger's weapons procurement chief.
Up to now, the government had said he was in detention although he now runs a development charity in the north and has been travelling in that region from time to time.
Mr Hulugalle said: "I think it's a victory for us - at one point he was against us and was a leader of Tamil people.
"Today he is working for development of this country - he is free to do that."
It is not known where Mr Pathmanathan has been living but reports earlier this week said he is in Kilinochchi, the town the rebels used as their headquarters.
Asked by the BBC how it was that a senior rebel leader was free while many far more junior ones were facing legal action, military spokesman Brigadier Ruwan Wanigasuriya said that because there were no legal complaints against Mr Pathmanthan, there was no need to charge him.