Afghanistan feels pressure in hunt for Swat Taliban chief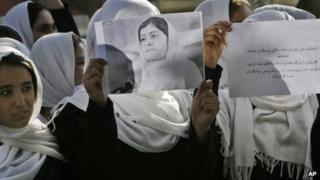 More than a week since Pakistani schoolgirl Malala Yousafzai was shot by suspected Taliban gunmen on her way to school, the pressure to bring those behind the attempted murder to justice is not just on Pakistan but also on neighbouring Afghanistan.
The Pakistani government says Mullah Fazlullah - leader of the Taliban group which has claimed responsibility for the shooting - is hiding in the mountainous Afghan border regions - and has called for him to be handed over.
Pakistan has been shelling Afghan border villages for months, in response to what it says are cross-border raids by Fazlullah's men, including an attack in which 17 Pakistani police were beheaded.
Usually, it is the other way round - with Kabul accusing Pakistan of giving sanctuary to Taliban who carry out assaults inside Afghanistan.
Military offensive
But there are suspicions that any action against Fazlullah - the leader of the Swat faction of the Pakistani Taliban - could become entangled in the bitter relationship between the two neighbours.
There are even reports Afghanistan is using him as a bargaining tool against Pakistan.
Officially, the Afghan government rejects Pakistani claims that the man also known as Mullah Radio is still on its soil - three years since he fled a Pakistani military offensive that forced him out of Swat, Malala Yousufzai's home.
But in private, there is no such denial.
An Afghan security source who asked not to be named said that there were "reports that Fazlullah was in Kamdesh or Chapa Dara" - two districts in the border provinces of Nuristan and Kunar.
But the source rejected claims the Afghan intelligence service, the NDS, is backing the Pakistani Taliban leader - who is also known as the FM Mullah for the sometimes lyrical broadcasts he used to make when he was in control of Swat valley.
When asked however if any action against him was likely, the security source answered: "Fazlullah does not attack any Afghan security forces."
If he is hiding in the mountains of Kunar and Nuristan, they make a perfect hiding place.
Stretching along the ill-defined Afghanistan-Pakistan frontier, they have long been a haven for militants, who move between isolated mountain hamlets and caves that were first used by Mujahideen fighters battling Soviet troops in the 1980s.
Extremism 'as a tool'
Despite years of US and Afghan military offensives - and just two years before Nato forces are due to pull out from Afghanistan - the two provinces remain largely outside government control.
The Americans lost dozens of troops in battles with insurgents as they tried to pacify the region, before closing down their bases there two years ago.
There are also reports of Fazlullah being in Nuristan's Kamdesh district, where one US post was nearly over-run by insurgents in 2009.
At a press conference with the Nato secretary general, President Hamid Karzai was asked about Pakistani claims that Mullah Fazlullah was still in Afghanistan.
But he did not directly answer, saying instead that he hoped the shooting of the schoolgirl would convince Islamabad that using extremism as "a tool against others" was not in its interest.
One of the president's advisers, who asked not to be named, took a different line saying the Afghan government "does not have the power to use Fazlullah as a tool."
But he said it was up to the Americans to take action against him.
"They have the technology."
American special forces still make forays into the lawless north-eastern border region, and are believed to have been involved in a strike in Kunar in August which killed Mullah Dadullah, another Pakistani Taliban leader.
Asked if any action was planned against Fazlullah, the US military in Afghanistan declined to comment.