Pakistan set for return of high-profile international cricket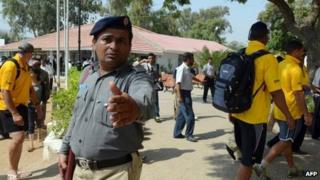 Pakistan is hosting its highest profile international cricket match since 2009, when militants attacked a bus carrying the Sri Lanka team.
An all-star side including players from South Africa and Sri Lanka will play a Pakistan all-star side in two Twenty20 matches in Karachi this weekend.
The matches have not been recognised by the sport's governing bodies.
Pakistan is hoping to convince the authorities that it is safe enough to play full internationals.
Since 2009 Pakistan has played all of its home events at neutral venues, mostly in Dubai or Abu Dhabi.
The weekend matches will be played amid a tight security operation.
The government of Sindh has deployed troops to guard the visiting players, and have detailed 5,000 policemen to provide security at the venue of the matches.
End to isolation?
While it is not the first time that an international team has played in Pakistan since the 2009 attack - Afghanistan visited last year to play three one-day games against a Pakistan A side - it is the most high-profile side to visit.
Former Sri Lankan captain Sanath Jayasuriya will lead the world team, made up of players from the West Indies, South Africa and Afghanistan.
Many fans said that they were not expecting the event would actually take place, given the security situation in the country.
But the world team has no endorsement from the the International Cricket Council (ICC) and cannot call itself the "World XI".
Likewise the Pakistan Cricket Board (PCB) has also distanced itself from the event.
It has allowed Pakistani players to join the Pakistan All Stars squad captained by former skipper Shahid Afridi only if they have no prior commitments in the domestic cricket season.
But now that the matches are going ahead, many believe this will end Pakistan's three-year-long isolation as a cricketing nation.
In the 2009 attack, the bus carrying the Sri Lankan cricket team was shot at on its way to play in the city of Lahore.
At least six policemen escorting the team bus were killed, along with a driver.
While no players were seriously harmed, the incident exposed the threats militants could pose to visiting players.