Bangladesh mutiny: 723 border guards jailed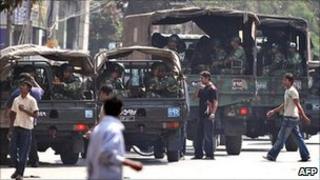 A court in Bangladesh has jailed 723 border guards for their role in a bloody mutiny in 2009.
The court said the verdict was the final one in a series of mass trials conducted by the military.
Nearly 6,000 people have now been jailed for the mutiny over pay and conditions, which left 74 people dead.
Human Rights Watch (HRW) has criticised the trials, saying a number of suspects died in custody and others were beaten and tortured.
The military has described the HRW claim as baseless, saying that a number of suspects died of heart attacks or other natural causes.
Bodies dumped
On Saturday, the military court found the 723 border guards of the former Bangladeshi Rifles (BDR) guilty of "joining and leading the mutiny".
"In all, 735 border guards were charged. Two died during the trial and 10 were acquitted," state prosecutor Gazi Zillur Rahman told the AFP news agency.
"Of the 723 found guilty, 64 soldiers were sentenced to seven years in jail," the prosecutor added.
Officials say that border guards accused of more serious offences - such as murder - were being tried separately and could face the death penalty if convicted.
The mutiny erupted at BDR headquarters in the capital, Dhaka, and lasted 33 hours.
Other BDR units across Bangladesh joined the rebellion, the worst mutiny by the armed forces in the country's history.
Among the dead were at least 57 senior army officers. Their bodies were dumped in sewers or shallow graves.