Australia state of Queensland lifts uranium mining ban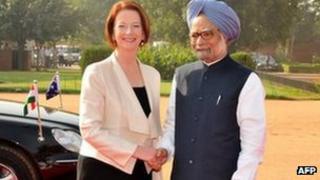 The Australian state of Queensland has lifted a 23-year ban on mining uranium, paving the way for exports to India.
The move follows a visit to Delhi last week by Australian PM Julia Gillard to discuss the sale of uranium with Indian counterpart Manmohan Singh.
Last year, Australia dropped its long-standing ban on exporting uranium to India.
It was originally imposed because Delhi had not signed an international treaty on nuclear non-proliferation.
Queensland State Premier Campbell Newman said the national government's overturning of the export ban to India and the recent talks in Delhi prompted a rethink.
"The Prime Minister, Julia Gillard, has just been in India selling the benefits of Australian-produced uranium to India, prompting many in the community to ask about the industry's potential in Queensland," Mr Newman said in a statement.
The Queensland government says there are more than 80 known sites in the state that contain valuable amounts of uranium.
Australia, which holds an estimated 40% of the world's uranium, already exports it to China, Japan, Taiwan and the US - although it does not use nuclear power.