Burma Rakhine violence: Three killed in clashes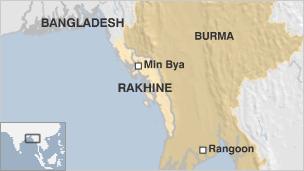 Three people have been killed in clashes between Muslims and Buddhists in the western Burmese state of Rakhine, officials say.
Some 300 houses in a number of villages have been burnt down, Rakhine's attorney general told BBC Burmese.
This is the first serious violence since June when a state of emergency was declared in Rakhine after deadly clashes between the two communities.
Tensions in Rakhine state have remained high since those clashes.
The violence initially erupted in late May when a Buddhist woman was raped and murdered by three Muslims.
A mob later killed 10 Muslims in retaliation, although they were unconnected with the earlier incident and the violence escalated after that.
The latest clashes began late on Sunday night in villages in Rakhine's Min Bya township, eyewitnesses told the BBC.
On Monday many more homes were burned down as violence spread.
It is unclear what prompted the latest clashes. Muslims and Rakhine Buddhists blame each other for the violence, reports say.
In the June clashes, sectarian clashes spread across the state, with houses of both Buddhists and Muslims being burnt down. The attacks left many dead and forced thousands of people to flee their homes.
There is long-standing tension between Rakhine people, who are Buddhist and make up the majority of the state's population, and Muslims, many of whom are Rohingya. The Burmese authorities regard the Rohingya as illegal immigrants.
In August Burma set up a commission to investigate the violence between Buddhists and Muslims in the west of the country. Authorities earlier rejected a UN-led inquiry.