The other children of Pakistan's war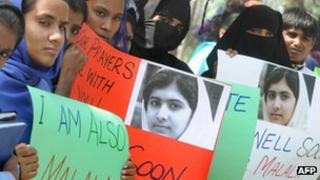 The Taliban's attempt to kill teenaged activist Malala Yousafzai in Pakistan earlier this month underlines the dangers that the militant conflict holds for the country's schoolchildren.
Tens of thousands of school pupils have been displaced along with their families from areas across Pakistan's tribal belt on the Afghan border where the Taliban have carved sanctuaries for themselves.
Thousands were deprived of an education as the militants carried out a persistent campaign against secular education, destroying nearly 1,000 schools since 2006.
Years of military operations in these areas have led to further destruction.
While militants have been driven out from some areas, the territory they once occupied has not yet been fully secured under a civilian administration.
And many significant sanctuaries still remain, especially in North Waziristan, parts of South Waziristan, the Orakzai region and the Khyber region.
Outspoken critic
From these sanctuaries, militants have been able to conduct raids on Pakistan's military as well as civilian targets deep inside the country, breaching security cordons and creating an enduring sense of uncertainty.
Malala was an outspoken critic of the Taliban's opposition to girls' education, but she was only a schoolgirl and never believed that they would consider her a serious threat.
But while she was not the only child victim of this conflict, she may have been the only one targeted because of her views.
A year ago, Taliban gunmen ambushed a school bus south of Peshawar city, killing at least four boys and injuring more than 12, including two seven-year-old girls.
A Taliban spokesman in the nearby Khyber tribal region later said it was a response to the local tribes who had raised an armed volunteer force to resist the Taliban presence in Peshawar's southern outskirts.
Children have suffered in other ways as well.
Pakistani officials claim more than 30,000 civilians and over 3,000 soldiers have been killed in the "war on terror" since late 2001. It is not known how many of them were children.
The latest United Nations report on the issue, released in April 2012, says that at least 57 children were killed in Pakistan during 2011 alone - mainly by landmine explosions, roadside bombs, shelling and targeted attacks.
This figure would be much higher if casualties from the country's unending sectarian attacks are included.
Recruiting and indoctrinating
There are also recurrent reports of children being killed as unintended targets of drone strikes in Pakistan's tribal areas.
The CIA-operated unmanned planes have carried out a persistent campaign against militants in their north-western tribal sanctuaries.
The media do not have free access to these areas, but in November 2011, British legal charity Reprieve arranged for a number of tribesmen to travel to Islamabad to protest against drone strikes.
The delegation included boys allegedly maimed by drone strikes, and men narrating eyewitness accounts of civilians, including children, killed in those attacks.
None of this can be independently verified.
What is confirmed, though, is the fact that the Taliban have been recruiting and indoctrinating easily-impressionable teenage boys as suicide bombers for attacks in Pakistan.
In February 2011, they used a 12-year-old boy to penetrate the well-fortified garrison in the north-western city of Mardan to attack army recruits.
Wearing the uniform of a school located inside the garrison area, the boy managed to slip past several security check posts and detonate the explosives vest he was wearing at a parade ground where the recruits were doing physical training.
At least 30 people were killed, most of them army recruits.
Three months after that incident, the BBC interviewed another would-be suicide bomber who was caught by the police.
Omar Fidai, 14, said he was part of a double-attack plan at a Sufi shrine in Dera Ghazi Khan city. He was to detonate his explosives near the rescue workers after his partner - also a teenager - had blown himself up killing more than 40 people.
But his vest did not explode properly. He was injured, but survived.
He said he was trained at a camp for suicide bombers in the North Waziristan tribal region, and was given to believe that he would go straight to heaven once he had killed the infidels and the heretics.
The UN's 2012 report has recorded 11 incidents during 2011 in which teenage boys, some as young as 13, were used by armed groups to carry out suicide attacks.