Cambodia deports woman for destroying Sihanouk photos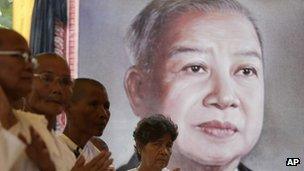 A Cambodian court has ordered the deportation of a Chinese factory supervisor found guilty of desecrating pictures of former King Norodom Sihanouk, who died recently.
Wang Zia Chao, 43, also received a one-year suspended sentence for "intentionally damaging the photos".
Correspondents say the case is the first in many years in which Cambodia's lese majeste law has been applied.
Wang expressed remorse in court for destroying two photos of the ex-king.
She said that she did so because she was annoyed that staff at the Top World garment factory were shirking work by constantly interrupting their labours to admire the images of the widely revered former monarch.
The supervisor - who has also been ordered to pay a 2,000,000 riel ($500) fine - told the court she was unaware who was depicted in the images.
"If I had known... I would not have done it. I feel regret for the mistake and I would like to say sorry for everything," Wang said.
Soon after the incident on Monday more than 1,000 angry workers marched through Phnom Penh to demand her punishment. The managers of the factory fired her and turned her over to the authorities.
Police said that if they had not arrived on time, Wang would have been in danger of being physically attacked by the workers.
Garment exports are Cambodia's major foreign exchange earner - as many as 400,000 people work in hundreds of factories in the Phnom Penh area.
Sihanouk's body arrived in Cambodia last week for seven days of official mourning.
His coffin was flown from the Chinese capital Beijing, where he died of a heart attack aged 89.