New Zealand Pike River mine boss pleads not guilty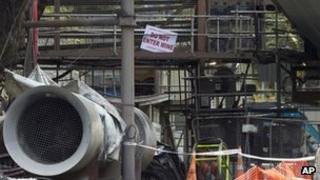 The boss of a coal mine in New Zealand, where 29 people died after an explosion, has pleaded not guilty to labour violation charges.
The Pike River disaster on 19 November 2010 in the South Island mine was the country's worst mining disaster in almost a century.
The mine's CEO Peter Whittall entered the pleas on 12 charges in a New Zealand court.
The case will be heard in court again on 14 March next year.
Mr Whittall faces charges that include failing to manage methane levels and ventilation in the mine.
Each of the charges carries a maximum penalty of NZ$250,000 (£128,000; $204,000).
In a statement released through his lawyers, Mr Whittall said he does not accept the allegations and will challenge the charges.
The statement also pointed out that the charges ''do not allege, either directly or indirectly, that either Pike River or Mr Whittall caused the deaths of the 29 men tragically killed".
'Answers' for public
The New Zealand Labour Department has charged three parties in connection with the disaster.
Australian company VLI Drilling, a contractor at the mine, pleaded guilty to three health and safety charges in July.
The company is due to be sentenced on Friday for the violations related to the operation and maintenance the drill rig used at the mine.
The Pike River Coal company is also facing health and safety charges.
A public hearing into the incident was completed in April, with a final report due by end November.
The report on the inquiry by the commission was originally due at the end of September but the New Zealand cabinet announced a two-month extension in August.
"The extended reporting date ensures the report will not be compromised, and that families and the public will still have answers before the end of the year," said the attorney-general.