Malala Yousafzai: Has Pakistan missed the chance to move on militancy?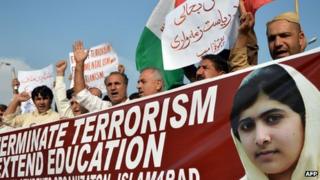 The shooting of Malala Yousafzai by the Taliban shocked the world and sparked rare public outrage against Islamist militants in Pakistan. So why has Pakistan's leadership been unable to seize the opportunity to take decisive action against Taliban sanctuaries? BBC World Service South Asia Editor Shahzeb Jillani explains.
For a while, the wave of revulsion seemed like a turning point for a country whose state institutions appear ambivalent towards rising extremism.
Leading commentators urged the Pakistani leadership that this was the time to move decisively against the militants.
But within days, the country's hardline Islamists staged a determined fight back.
Day-to-day bickering
The religious right accused its critics of "hijacking" the Malala incident to further their western, secular objectives - declaring it a ploy to justify a possible army offensive in the Taliban-controlled tribal region of North Waziristan.
At the same time, the Taliban turned their guns on the Pakistani and foreign media.
Leading journalists were threatened for their extensive coverage of the wounded schoolgirl.
Warnings were issued to news organisations that they would be attacked if they did not change their editorial stance.
Soon afterwards, Malala was flown to Britain for specialised hospital treatment and her story started slipping down the news agenda of Pakistani news channels.
On the political front, opposition parliamentarians said they would resist any government move to launch a fresh military operation in Pakistan's tribal areas - in case it was used as an excuse to postpone parliamentary elections due within the next six months.
With that, Pakistan's so-called "Malala moment" faded away as quickly as it had seemingly emerged - drowned amid the day-to-day bickering of Pakistani politicians.
Official clarity about how the country's leadership was going to respond to the incident came last Sunday.
Addressing a gathering of South Asian journalists in Islamabad, President Asif Ali Zardari ruled out any new action against the militants - unless there was a national consensus.
"It's easy to be emotional," he said. "It's easy to take a nation to war. But you don't ride a tiger unless you know when to get off."
In his rather candid admission, Mr Zardari said Pakistan had to act according to its capabilities and expressed the government's fears of a likely backlash in the event of a fresh army offensive.
"Have you ever imagined what the blowback would be? Do you even know how many madrassas there are and what little it takes to get them united?" he asked the audience.
Slide towards extremism
Senior journalist Imtiaz Alam said he was disappointed by Mr Zardari's stance.
"The president sounded defeatist and he exposed the weakness of the state," he said.
As the elected president, Mr Zardari is Pakistan's supreme commander - but only in theory. In reality, all matters of national security and military affairs are left to the generals like Chief of Army Staff General Ashfaq Pervez Kayani.
In recent years, Gen Kayani has resisted American pressure to carry out an operation in North Waziristan, known as a safe haven for militants fuelling the Taliban insurgency in Afghanistan.
American officials have long suspected that the Pakistani army's reluctance to move into North Waziristan is more a question of will, than capacity.
But with nearly 150,000 soldiers deployed in the tribal areas and tens of thousands in other volatile areas, the army says it is too stretched to mount any new offensive.
Recent reports suggest the US pressure on Pakistan to target the Haqqani sanctuaries may be easing as it seeks Pakistan's co-operation in finding a political settlement in Afghanistan in the run-up to the 2014 Nato withdrawal.
So where does this leave ordinary Pakistanis?
There is a growing sense among many that their civil and military leaders lack the will, as well as the capacity, to stop the country's slide towards extremism and militancy.
As a result, during the last decade or so that Pakistan has been seemingly at war with itself, the country has failed to come up with a clear counter-terrorism strategy.
Pakistan remains deeply polarised and confused about the nature of the security threats it faces and how it should fight them.
On the one hand there is a loud, vocal and a growing section of society which thrives on externalising the country's problems onto America, India, Afghanistan - in that order. This group often enjoys close links with the military and the religious right.
And then there are those who believe the biggest threats are internal, rooted in the civil-military imbalance, that are destabilising the country from within.
So long as that continues to be the case, ordinary Pakistanis with extraordinary courage - Malala Yousafzai being a glowing example - will continue to bear the brunt of this long war.