Deadly tropical storm Son-Tinh batters Philippines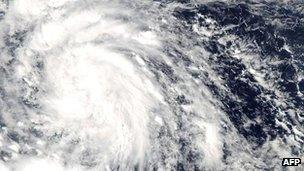 At least 24 people have been killed as a result of tropical storm Son-Tinh in the Philippines, the government says.
The death toll was updated after casualty reports were received from the central and southern Philippines, officials said.
About half of the victims were killed by landslides and by drowning, while others were hit by debris or electrocuted.
More than 15,000 people are sheltering in government evacuation centres.
At least six people remain missing.
The Philippines see between 15 and 20 major storms or typhoons each year, that occur mainly during the rainy season in the summer and autumn.
The storm is heading westward towards Vietnam at 22km/h (14mph) per hour and is forecast to strengthen into a typhoon.