Burma violence: 20,000 displaced in Rakhine state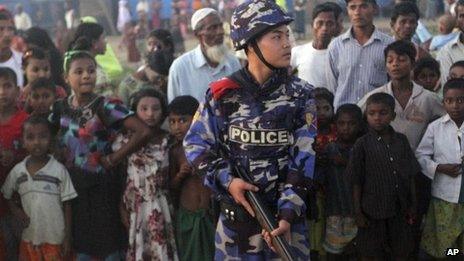 More than 22,000 people have been displaced by violence in Burma's Rakhine state, mostly from the Muslim Rohingya minority, the government says.
UN officials who joined a government tour said many of the displaced, who are in squalid camps, boats, or on islands or hilltops, needed urgent aid.
More than 4,600 houses have been burnt.
Earlier Burma acknowledged more than 80 people had been killed and whole villages destroyed in violence between ethnic Rakhine Buddhists and Rohingyas.
The total number displaced since clashes broke out between the two groups in June is now 100,000.
There is long-standing tension between ethnic Rakhine people, who make up the majority of the state's population, and Muslims, many of whom are Rohingya and are stateless.
The Burmese authorities regard the Rohingya as illegal immigrants and correspondents say there is widespread public hostility to them.
A UN team was allowed to accompany government officials on a tour of the affected areas of Rakhine state on Saturday.
The UN's Burma humanitarian chief, Ashok Nigam, said government had given estimates of 22,587 people displaced in the latest wave of violence, but he added there could be "additional numbers".
Groups campaigning for the rights of Rohingyas say some of those who fled by boat have died at sea.
Getting aid to the displaced would be a major challenge, Mr Nigam said, adding that 21,700 of them were Muslims.
"The situation is certainly very grave and we are working with the government to provide urgent aid to these people," he said.
Burmese President Thein Sein on Saturday acknowledged mass destruction in the region, with whole villages and parts of towns burnt down, and announced tighter security.
Satellite pictures by Human Rights Watch show hundreds of buildings destroyed in the coastal town of Kyaukpyu alone.
A local reporter who visited the site told the BBC's Burmese service the area had been completely destroyed, with some buildings still smouldering.
In one district, with a population of some 3,000, only burnt out poles from the houses and charred stubs of trees were to be seen.
The government has declared a curfew in the affected areas, but its response since the violence first broke out is being widely criticised as inadequate, says the BBC's Jonathan Head in Bangkok.
On Friday six towns were hit by clashes and a night-time curfew is in place in several locations including Min Bya and Mrauk Oo where the latest spate of violence began.
It is unclear what prompted the latest clashes. The Rakhine Buddhists and Muslims, believed to be mainly Rohingya, blame each other for the violence.
Related Internet Links
The BBC is not responsible for the content of external sites.