Two British soldiers shot dead in Afghanistan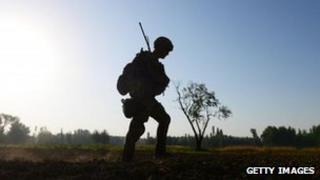 Two British soldiers have been shot dead at a checkpoint in Afghanistan by a man wearing a local police uniform, the Ministry of Defence has said.
The soldiers were both from 1st Battalion The Royal Gurkha Rifles.
They were killed in Nahr-e Saraj in Helmand province, southern Afghanistan, on Tuesday. Their families have been informed.
At least 11 of the 43 British dead in Afghanistan this year have been killed by Afghans they served alongside.
This compares to one in 2011, three in 2010 and five in 2009.
'Terrible news'
More than 50 international personnel have been killed so far this year by Afghans wearing police or army uniforms.
Spokesman for Task Force Helmand, Maj Laurence Roche, said: "I am saddened to report the deaths of two soldiers from 1st Battalion The Royal Gurkha Rifles who were shot and killed by a man wearing an Afghan police uniform at a checkpoint in the Nahr-e Saraj district of Helmand province.
"The loss of these soldiers is a huge blow to The Royal Gurkha Rifles and everyone serving in Task Force Helmand. Our thoughts are with their families, friends and fellow Gurkhas at this time."
Damian Collins, Conservative MP for Folkestone and Hythe, where the Gurkha regiment is based, told the BBC: "It is terrible news and everyone in Folkestone will be saddened to hear it.
"The Gurkhas are very much part of our community. We are very proud of the work they have done on a number of tours of duties of Afghanistan since the war, and we will be united in our grief and sense of loss."
The Taliban said the killer was now safe with them after having infiltrated the Afghan police.
Brig Gen Gunter Katz, of Nato's International Security Assistance Force (Isaf), said the gunman was trying to flee the area but he was being pursued by Isaf and Afghan national security forces.
He said: "There's never a 100% guarantee that you can stop them [insider attacks]. All we really can do is try our best to mitigate them.
"We understand the concerns in the capitals, but clearly it will have no effect on the mission. We understand that every dead soldier is one dead soldier too much."
The BBC's Quentin Sommerville in Kabul said there was a "grim acceptance" among commanders that insider attacks were a fact of life in Afghanistan.
Lt Gen David Capewell, commander of UK Joint Forces, told MPs on Tuesday: "The reasons for these attack are complex, but there is no question in my mind that this is an insurgent tactic. I think deeply about this every day."
'Step up attacks'
Col Richard Kemp, a former commander in Afghanistan who has sat on the government's Cobra emergency committee, said such attacks were impossible to stop completely.
He told the BBC: "There is no way of ensuring they won't happen, in the same way as there is no way of ensuring that attacks from outside won't happen either. It illustrates the 360 degree threat that our troops face day in and day out.
"It also shows, whether or not it was a Taliban-organised attack, a recognition of the fact that our mission there is about to end.
"If it's the Taliban then we know that they are trying to step up their attacks so that they can be seen to give us a bloody nose before we depart.
"If it is a 'lone wolf' type affair, a lot of the Afghans are emboldened by the knowledge that we're leaving to carry out an attack against us... and the Taliban will probably be back in control in many of these areas."
But Isaf's Maj Martyn Crighton, in Kabul, said it had not yet been classified as an insider attack.
"That's exactly what we are trying to determine, whether or not this particular incident was perpetrated by somebody who was an employee of either the police or other security forces," he said.
"We do not yet know whether or not this particular tragedy was perpetrated by an insider."
BBC defence correspondent Jonathan Beale said the worrying thing was this incident came after Nato had introduced measures to try to prevent such attacks, including stricter vetting of Afghan recruits and better intelligence.
Last week, army medic Cpl Channing Day, of 3 Medical Regiment, and Royal Marine Cpl David O'Connor, of 40 Commando, were killed in a gun battle in Afghanistan.
An initial review into their deaths has revealed the killings were not caused by "friendly fire". Their bodies were repatriated on Tuesday.
The latest deaths take the total number of British service personnel killed since operations in Afghanistan began in October 2001 to 437.
BBC defence correspondent Jonathan Beale said Nato was determined that such "green-on-blue" attacks would not derail the process of training Afghan security forces.
Nato is preparing to withdraw most combat troops by the end of 2014.