Southern India and Sri Lanka on cyclone alert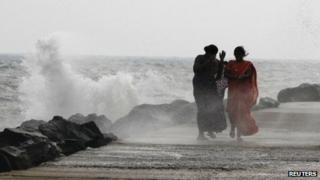 A cyclone has displaced more than 4,000 people in Sri Lanka and is threatening southern India, officials say.
They say that large tracts of land in the north-east of Sri Lanka have been inundated by heavy rain.
The rainfall is later predicted to hit the Indian states of Andhra Pradesh and the north of Tamil Nadu.
The bad weather has been caused by a tropical cyclone in the Bay of Bengal. Fishermen in both India and Sri Lanka have also been warned not to go to sea.
Schools and colleges in Tamil Nadu's capital, Chennai, are shut after forecasters predicted heavy rains.
Reports say Cyclone Nilam could make landfall anywhere between Nagapattinam in Tamil Nadu and Nellore in Andhra Pradesh on Wednesday evening, and also hit the southern coastal areas of neighbouring Andhra Pradesh.
It has already hit north-eastern Sri Lanka, where the BBC's Charles Haviland says that people in areas hit by heavy fighting at the conclusion of the war in 2009 have been badly affected.
They include Tamil families who left the huge Menik Farm refugee camp when it was closed a month ago and who have been living in makeshift accommodation since then.
Officials have appealed for tarpaulins and other non-food relief items for those who have been displaced.
In December 2011, more than 30 people died and many homes were damaged after a cyclone near the town of Pondicherry in southern India.
And in May 2010 at least 23 people died as a powerful cyclone caused widespread havoc across the southern state of Andhra Pradesh.