Pakistan cricket team 'cleared' for India tour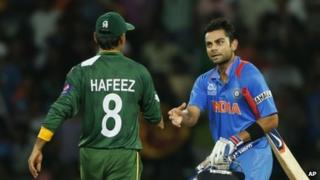 India's home ministry has cleared the way for Pakistan to play its first cricket series in India for five years.
It has given permission for a short limited-overs tour in December and January. Officials say the move takes the series one step closer to reality.
The last series between India and Pakistan in either country was in 2007-2008 when Pakistan visited India.
Ties between the two countries' cricket authorities were hit by the 2008 Mumbai attacks, in which 175 people died.
The attack was blamed on a Pakistan-based militant group.
The South Asian rivals continued to play each other on overseas grounds, with their last match taking place in the ICC Twenty20 Cricket World Cup in Sri Lanka last month.
The forthcoming series in India will feature three ODIs and two Twenty20s.
Improving relations
The clearance was given at a meeting between Indian ministry officials and senior cricket representatives from the Board of Control for Cricket in India (BCCI). Correspondents say that final government approval for the tour should now be a formality.
Pakistan's cricket board earlier this year welcomed proposals to play the games, saying that millions of fans would be delighted.
Pakistan's cricketers are scheduled to arrive in India on 22 December.
The venues are Chennai, Delhi, Calcutta, Ahmedabad and Bangalore - but the detailed schedule is yet to be announced.
Correspondents say the move to resume cricketing ties is a sign of improving relations between the two countries.
In July, the foreign secretaries of India and Pakistan met in Delhi and the two sides discussed their willingness to have more sporting contact.