Bali drug trial: Lindsay Sandiford 'had cocaine in suitcase'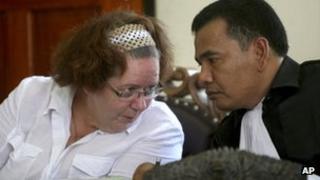 An Indonesian customs officer has told a Bali court he found 4.8kg of cocaine in the suitcase of a British woman, accused of drug offences, when it went through an airport X-ray machine.
Lindsay Sandiford, 56, from Gloucestershire, is on trial for selling or facilitating the sale of more than 5g of narcotics.
The official said the drugs were found in the lining of her suitcase in May.
She is one of four Britons facing drug charges in the Indonesian province.
Mrs Sandiford appeared in court in Denpasar, Bali, on Wednesday where three Indonesian officials testified against her.
Christian Septu Nugraha, a customs officer at Bali Airport, told the court that when he showed the drugs to Mrs Sandiford she appeared shocked as if she was not aware of the contents of the package.
He added that Mrs Sandiford said at that time that she knew nothing about the cocaine.
In prison
During her last court appearance, without a lawyer earlier in October, Mrs Sandiford said she thought there might be inaccuracies in the prosecution's case.
Mrs Sandiford, who was born in Redcar, Teesside, is at Bali's Kerobokan prison, where she is being held with three other Britons charged in the case - Paul Beales, Julian Ponder and Rachel Dougall.
Mr Ponder and Mr Beales face the same charge as Mrs Sandiford.
Ms Dougall is charged with possession of drugs and failure to report a crime.
The charge of selling or facilitating the sale of more than 5g of drugs is, potentially, punishable by death.
All four were arrested in May for allegedly importing 4.8kg cocaine worth £1.6m.