North Korea Ryugyong 'Hotel of Doom' may open next year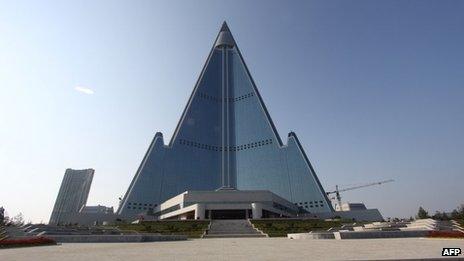 The 105-storey hotel which dominates the skyline of the North Korean capital, Pyongyang, may open next year, 26 years after construction began.
The pyramid-shaped building has become known as the "Hotel of Doom".
The chief executive of the Kempinski group, which will manage the Ryugyong hotel, said only 150 rooms on the top floors would be used as a hotel.
Reto Wittwer said shops, restaurants and offices would eventually open on the lower levels.
Construction on the building began in 1987.
It is the 47th tallest building in the world, at 330m (1,100ft), and has the fifth greatest number of floors, 105.
It was scheduled to be completed in 1989 in time for the 13th World Festival of Youth and Students.
But construction was abandoned in 1992 when North Korea suffered an economic crisis.
Its hulking, unfinished presence has long been an embarrassment for the North Korean leadership, analysts say.
It was voted "Worst Building in the History of Mankind" by Esquire magazine in 2008.
The American publication called it "hideously ugly, even by communist standards."
There are reports of poor construction and the use of inferior materials.
A delegation from the European Union Chamber of Commerce in Korea, which inspected the building almost 15 years ago, concluded it was beyond repair and its lift shafts crooked.
But in 2008 an Egyptian company, Orascom Telecom, which operates a mobile phone network in North Korea, began equipping the building.
It is reported to have spent $180m (£112m) on finishing the hotel's facade.
Mr Wittwer said the hotel will "partially, probably" open for business next year.
But original plans for 3,000 hotel rooms and three revolving restaurants have been greatly scaled back.
Earlier this year, the Beijing-based company, Koryo Tours, which organises trips to North Korea, was granted a rare glimpse inside the hotel.
Photos taken by the company showed a vast glass-covered lobby and atrium with tiers of bare concrete at its base, resembling a multi-storey car park.
Related Internet Links
The BBC is not responsible for the content of external sites.