Dozens missing as boat sinks off Bangladesh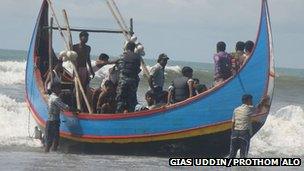 Dozens of people are missing after an overcrowded boat capsized off Bangladesh, officials say.
The boat was said to be carrying mainly Bangladeshis trying to emigrate illegally to Malaysia.
A number of Rohingya Muslim refugees from Burma were also on board, but their exact numbers are not clear.
Last week another boat carrying Rohingya Muslims fleeing violence in western Burma's Rakhine state sank in the same area.
Officials gave conflicting figures - most reports said about 100 people were on board the boat which went down early on Wednesday and at least 23 had been rescued.
The boat sank 20km (12.4 miles) off the coast of Cox's Bazar district, Bangladeshi officials said.
The Bangladeshi coast guard and navy were continuing to search for the missing.
"The boat was trying to recover one passenger who fell down from the boat and later on the boat could not control the momentum and it went down inside the water," Lt Col Zahid Hasan, a senior Bangladesh border guard official, told the BBC.
"We were heading to Malaysia for jobs but the boat suddenly went upside down and sank," survivor Jamir Hossain told Reuters news agency.
"I floated for several hours before a fishing boat picked me up."
Another survivor also told Reuters that the boat was full of people without travel documents who each paid 22,000 taka ($270, £169) for the journey.
Boat accidents of this nature are not uncommon in Bangladesh, says the BBC's Anbarasan Ethirajan in Dhaka.
Human traffickers often lure illegal job seekers with promises of lucrative employment in Malaysia, Thailand and other South East Asian nations and take them in overloaded boats, our correspondent adds.
In recent months more members of the Muslim Rohingya group have been been trying to make their way to Malaysia, after ethnic violence in the Burmese state of Rakhine left tens of thousands displaced.