Peshawar suicide blast kills top Pakistan police officer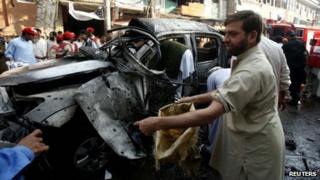 A suicide bomber in north-western Pakistan has killed a senior police officer and at least four other people in the city of Peshawar, officials say.
They say that the bomber, who was on foot, targeted the car of Assistant Superintendent of Police Hilal Haider in a congested part of the city.
Pakistani newspapers said that police bodyguards were among the dead.
Peshawar is near Pakistan's tribal belt on the Afghan border - a stronghold of Taliban and al-Qaeda militants.
Violence from the tribal regions has in recent years spilled over into the city.
There were at least three bombings in Peshawar in September.
Militants have in recent months specifically targeted senior police officials in and near the city. A senior bomb disposal officer was among those killed in September.
'Deafening blast'
Police say that at least 30 people, including passers-by, were injured in the latest incident.
A Pakistani Taliban spokesman told the AP news agency that the group carried out the latest attack.
"We killed him today in Peshawar because he was behind the arrest of some of our fighters," spokesman Ehsanullah Ehsan said from an undisclosed location.
The Pakistani Taliban have been fighting a bloody insurgency for several years against the Pakistani army as part of their campaign to enforce their austere version of Islamic law in the country and in protest against the government's alliance with the US.
Witness Amin Khan told the AFP news agency that the bomber struck when he was in a rickshaw, going to the local market.
"Suddenly a deafening blast shook the area. My rickshaw was overturned. When I came out I saw smoke and dust had covered the blast site," he said.
Other witnesses described blood and body parts on the street.
The attack came as US President Barack Obama was re-elected - Washington is the main focus of the anger of militants in Pakistan.
During his first term as president, Mr Obama increased the number of drone strikes in north-west Pakistan against militants who he argues are planning attacks against America and its Nato allies in Afghanistan.
Militant attacks, drone strikes and army offensives have killed thousands of people in north-west Pakistan in recent years.