Australia to join second Kyoto Protocol phase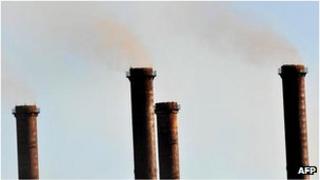 Australia's government says it is "ready to join" a second phase of the Kyoto Protocol on climate change.
Climate Minister Greg Combet said Australia was making the move because more action was being taken internationally to tackle climate change and replace the Kyoto deal.
The "second commitment" period for Kyoto could renew pledges to limit emissions until 2020.
Australia is one of the world's leading emitters of greenhouse gases.
The governing Labour party signed up to the Kyoto Protocol in one of its first acts after winning power in 2007.
The protocol, initially adopted in Kyoto, Japan, in 1997, is aimed at fighting global warming by setting legally binding targets for countries to cut greenhouse gas emissions.
The first round of cuts, which only apply to developed nations, expires at the end of this year.
'Avoiding a shock'
The protocol also created market mechanisms for countries to meet their targets by trading in carbon emissions.
Discussions over a new legal deal covering all countries are due to begin at a climate conference in Doha in December and end by 2015.
The new deal would come into effect by 2020.
"From 2020 we expect all countries - including the United States, the European Union, China, Japan, India, Indonesia and South Korea - will be part of a new agreement to reduce emissions," Mr Combet said on Friday.
"This will bring all countries on to the same legal platform to reduce emissions."
But Mr Combet added that if it did not take action now, Australia would face a "severe economic shock" after 2020.
Australia's participation in the second phase would be conditional on access to Kyoto market mechanisms from next year and the continuation of land sector rules, he said.
"While Australia is doing our fair share, we expect the same from others," he said.
Meanwhile, New Zealand said it was not signing the protocol's second phase.
Climate Change Minister Tim Groser said the country would instead be joining the UN Framework Convention on Climate Change, which does not have binding commitments.