Sri Lanka's prison clash 'a massacre'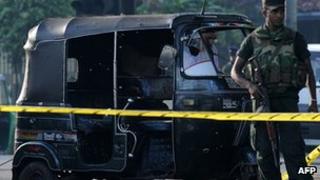 Sri Lanka's opposition has said that the deaths of dozens of prisoners, killed during clashes at a prison in the capital was a massacre.
A spokesman for the main opposition party said that the 27 inmates who died at Colombo's Welikada prison were "gunned down".
The government says they were killed in exchanges of fire during a riot after prisoners obtained and fired weapons.
The incident is the bloodiest prison violence in nearly three decades.
As well as those killed, Prisons Minister Chandrasiri Gajadeera said that 43 others, including 13 police commandos, four soldiers and two civilians, were injured.
'Gunned down'
Mangala Samaraweera, of the United National party, said that most of the prisoners killed during the clashes had been gunned down by police commandos and soldiers.
"It's a massacre that has to be condemned. It shows the breakdown of the rule of law in the country," he said, according to Reuters, adding: "[The] information I have is that most of the prisoners were cold-bloodedly gunned down".
His party has called for a parliamentary committee to investigate what happened during the violence, which broke out on Friday and continued into Saturday.
He said that the military should not have been deployed within the prison.
Missing prisoners
The violence began when prisoners rounded on hundreds of security forces who had entered the jail while prison officers searched for illegal items, officials said.
The commandos used tear gas and prisoners broke into the armoury, seizing weapons and taking officials hostage.
During the riot, some prisoners climbed on to the prison roof and fired at troops and police, AFP reports.
Guards killed at least three people when they fired on inmates fleeing from the prison in a motorised rickshaw, according to witnesses.
A prison official said four of the prisoners who tried to escape were still missing.
Some relatives of the dead inmates, speaking to BBC Sinhala, have alleged that after the initial clashes died down, prisoners were taken out of their cells and shot dead by soldiers.
The secretary to the prisons ministry, however, has dismissed this account.
Up to 4,000 inmates are held in the jail.