Burma's Aung San Suu Kyi begins visit to India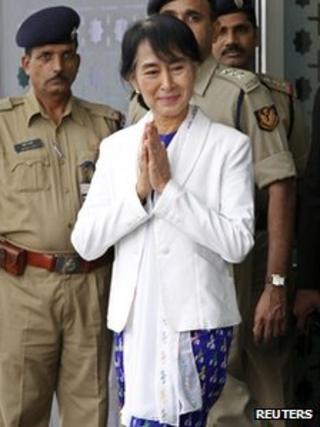 Burmese opposition leader and member of parliament Aung San Suu Kyi is making her first visit to India in almost 40 years.
She will meet Prime Minister Manmohan Singh, tour parliament and deliver a public lecture.
Ms Suu Kyi will also visit the college in Delhi she attended in the 1960s, when her mother was Burmese ambassador.
The visit comes two years after elections in Burma that formally ended military rule.
A new, nominally civilian government led by President Thein Sein was sworn in in 2011 and has since implemented a series of economic and political reforms.
Ms Suu Kyi, the pro-democracy leader who spent many years under house arrest, was released shortly after the November 2010 polls.
Her party has now rejoined the political process and secured a small presence in parliament after winning by-elections in April 2012.
Amid the reform process, many Western nations have been keen to reengage with Burma. Barack Obama will become the first US president to visit the South East Asian nation when he travels there as part of a short regional tour later this month.
'Economic links'
India initially supported Burma's pro-democracy movement and many Burmese students found refuge there after the military crackdown on protests in 1988.
However, our correspondents say India adopted a pragmatic approach to dealing with the military junta in the 1990s, in view of Burma's natural resources and business opportunities.
The policy was controversial, and this visit is an opportunity to mend fences, our correspondents say.
Earlier this year Mr Singh made a two-day visit to Burma aimed at strengthening political and economic links.
One of India's major projects is the Trilateral Highway, linking its north-eastern states to Burma and on all the way to Thailand.
Burma also has untapped reserves of oil and gas, and is strategically located between India and China.