Clinton in Australia for annual defence talks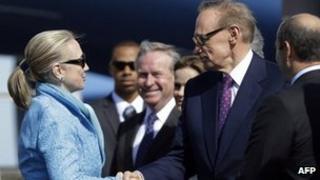 US Secretary of State Hillary Clinton has arrived in the Australian city of Perth for annual security talks.
Mrs Clinton will meet PM Julia Gillard on Tuesday before the main talks on Wednesday, which Defence Secretary Leon Panetta is also attending.
Increased defence co-operation and regional security issues are on the agenda for the meeting.
Last year the two sides agreed that US marines would be deployed to a base in the northern Australian city of Darwin.
The first contingent arrived in April, and the deployment is expected to grow to 2,500 US military personnel by 2017.
Increased US access to Australia's navy base south of Perth and airbases in the northern part of Western Australia is also on the agenda.
"We're going to deal with the suite of strategic issues that are of importance to us," Australian Defence Minister Stephen Smith said ahead of Mrs Clinton's arrival.
It was in Australia in November 2011 that US President Barack Obama signalled that the US was refocusing on Asia, calling the region a "top priority" of security policy.
China has voiced unease over the growing military ties between Australia and the US. When Australian Foreign Minister Bob Carr visited Beijing in May, he said the issue dominated his meetings there.
Canberra and Washington have been long-time allies, but China is Australia's biggest trading partner.