US institute: North Korea 'testing at rocket site'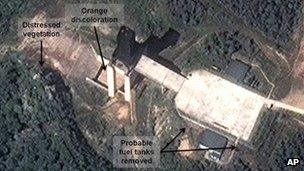 Recent satellite images show that North Korea has been conducting tests at a rocket launch site, says a US academic organisation.
The US-Korea Institute at Johns Hopkins University said its analysis of images "indicates that North Korea continues to develop long-range missiles".
There had been at least two tests of rocket motors since a failed rocket launch in April, it said.
The 30m (100ft) rocket crashed into the sea shortly after take off.
Pyongyang said the launch was aimed at putting a satellite into orbit, but it was widely criticised by the US, South Korea and Japan as a banned test of long-range missile technology.
"Since the failed launch, the North has conducted at least two, and possibly more, tests of large rocket motors at its Sohae Satellite Launching Station, the most recent in mid-September 2012," a report on the institute's 38 North blog said.
The tests appear to have involved "liquid-fuelled, first stage engines" for either North Korea's existing satellite launch vehicle, or a new long-range missile first seen during a military parade this year, the institute said.
There had also been indications of construction activity on the rocket site's upper gantry platform "required for future launches of long-range rockets", it said.
The report suggested North Korea could be planning test activities once both the US and South Korean presidential elections are finished. The South Korean poll takes place in December.
"Whether the testing of large rocket motors or construction at the launch pad are in preparation for such activities remains unclear at this point," it said.
Advances in the country's missile technology are watched carefully in both Seoul and Washington because of fears that North Korea could one day use long-range missiles to deliver nuclear weapons, says the BBC's Lucy Williamson in Seoul.