Burma earthquake: At least 26 now dead and 10 missing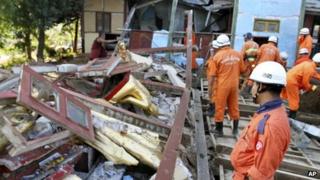 At least 26 people have been killed and 10 are still missing following an earthquake that struck central regions of Burma on Sunday, the Burmese Red Cross has said.
Hundreds of buildings were destroyed or damaged by the quake, it said.
It caused the collapse of a partially-built bridge over the Irrawaddy river.
The authorities have said they are sending aid, but communication problems have made it hard to fully assess the damage.
Workers thrown
Strong aftershocks have continued to rattle central regions including some near the newly built showpiece capital, Nay Pyi Taw.
The 6.8-magnitude quake struck some 120km (70 miles) north of the second-largest city Mandalay, at a depth of 10km, the US Geological Survey said.
The bridge under construction collapsed in Shwebo, close to the epicentre, throwing workers into the river.
In the early hours of Monday, a second quake, of 5.6 magnitude, struck the same region, the USGS said.
Earthquakes are relatively common in Burma.
In March 2011, at least 75 people died when a powerful earthquake hit Burma near the borders with Laos and Thailand.