Timeline: Petraeus scandal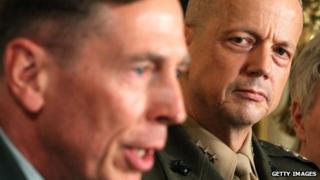 Here is a timeline of events in the scandal involving former CIA director David Petraeus:
Spring 2006: Paula Broadwell, a graduate student at Harvard University, meets David Petraeus, at the time a US Army lieutenant-general working on a counter-insurgency manual.
January 2007: Petraeus is confirmed by the Senate as the commanding general for US troops in Iraq.
2008: Mrs Broadwell begins a case study of Gen Petraeus' leadership. The general invites her to join him and his team for a run along the Potomac River on a visit to Washington, DC.
October 2008: Gen Petraeus is named as commander of US Central Command, located at the MacDill Air Force Base near Tampa, Florida. He and his wife, Holly, become family friends with Jill Kelley, a married socialite described as a "social liaison" for the base.
June 2010: Gen Petraeus is confirmed as commander of international forces in Afghanistan.
Late 2010: Mrs Broadwell expands her PhD research into a biography of Gen Petraeus. She begins travelling to Afghanistan, making trips lasting several weeks at a time, and gains exceptional access to the general and his team of commanders.
September 2011: Gen Petraeus takes up his post as director of the CIA, after retiring from the military over the summer. His wife Holly is at his side during the swearing-in ceremony. Gen Petraeus maintains contact with Mrs Broadwell. She is invited to his office for events.
November 2011: At about this time, Gen Petraeus and Mrs Broadwell begin having an affair, according to a former spokesman for the general, Steve Boylan.
24 January 2012: Mrs Broadwell publishes her book All In: The Education of General David Petraeus.
Early summer 2012: Jill Kelley complains to an acquaintance at the FBI that she has been receiving anonymous harassing emails, prompting an FBI investigation.
July 2012: The affair between Gen Petraeus and Mrs Broadwell ends, according to a former spokesman for Mr Petraeus, Steve Boylan.
Late summer 2012: The FBI establishes that the emails to Mrs Kelly have come from married mother-of-two Mrs Broadwell, 40. Further investigation reveals an extramarital affair between her and Gen Petraeus. FBI director Robert Mueller and Attorney General Eric Holder are informed.
21 October 2012: The FBI interviews Mrs Broadwell, who admits to the affair with Gen Petraeus and turns over her computer to the authorities. Classified information is found on the machine.
22-29 October 2012: The FBI interviews Gen Petraeus, who admits to the affair with Mrs Broadwell, but denies having given her any national security information.
26 October 2012: Mrs Broadwell delivers a speech at the University of Denver in which she refers to previously unreported information about a deadly attack a month earlier on the US consulate in Benghazi.
27 October 2012: House of Representatives Republican leader Eric Cantor of Virginia is notified of the affair by an FBI agent. The phone call has reportedly been arranged by another Republican lawmaker, Dave Reichert.
6 November 2012: President Barack Obama is re-elected to a second term. The FBI informs James Clapper, Director of National Intelligence, of the Petraeus affair. Mr Clapper speaks to Gen Petraeus.
7 November 2012: Mr Clapper informs the White House about the affair. It is also Gen Petraeus' 60th birthday.
8 November 2012: The White House informs President Obama when he returns to Washington from Chicago. The president meets Gen Petraeus, and the general asks for permission to resign.
9 November 2012: President Obama accepts Gen Petraeus' resignation. The news becomes public before congressional committees have been informed. That evening, Mrs Broadwell was due to celebrate her 40th birthday, but her husband cancels the arrangements. Mrs Broadwell is publicly identified.
12 November 2012: Mrs Broadwell consents for the FBI to search her home in Charlotte, North Carolina, and up to 10 agents are seen removing computers, a printer and several cardboard boxes from the property.
13 November 2012: The Pentagon announces that Gen John Allen, the top US commander in Afghanistan, is under internal investigation over "potentially inappropriate" communications with Mrs Kelley, 37.
15 November 2012: The US military revokes security clearances for the two women at the heart of the scandal, Paula Broadwell and Jill Kelley.
16 November 2012: The CIA opens an investigation into Mr Petraeus' conduct. Paula Broadwell is found to have classified information, which she and Mr Petraeus deny came from the former general.
27 March 2013: In his first public speech since resigning, Mr Petraeus apologises to those he "hurt and let down" and said his actions had caused "pain for family and friends".
10 January 2015: Prosecutors recommend bringing charges against Mr Petraeus for providing classified information to Ms Broadwell.
23 April 2015: Mr Petraeus is fined but escapes prison after admitting mishandling classified materials.