US lifts Burma imports ban ahead of Obama visit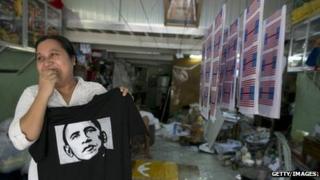 The US has lifted a decade-old ban on most imports from Burma, ahead of a historic visit by President Obama.
The move was intended to support political reform in Burma and to offer new bilateral business opportunities, said US officials.
Mr Obama will on Monday be the first US president to visit Burma, which has seen rapid change since nearly half a century of military rule ended in 2010.
The US export ban will remain in place on imports of some gems.
Burma is famous for its jade and rubies, but the precious stones were a source of revenue for the military and concerns remain about human rights abuses in the industry, correspondents say.
Prisoners freed
The Burma visit is part of a three-leg tour from 17 to 20 November that will also take in Thailand and Cambodia.
During the Burma leg, Mr Obama will meet Burmese President Thein Sein - who visited the US in September - and opposition leader Aung San Suu Kyi.
The trip - Mr Obama's first foreign initiative since his re-election earlier this month - reflects the importance that the US has placed on normalising relations with Burma, correspondents say.
In a statement, White House spokesman Jay Carney said Mr Obama intended to "speak to civil society to encourage Burma's ongoing democratic transition".
The government of Burma has begun implementing economic, political and other reforms, a process the Obama administration has sought to encourage.
The US began relaxing sanctions against Burma after by-elections were held there earlier this year.
Elections in November 2010 saw military rule replaced with a military-backed nominally civilian government, which took office in March 2011.
Since then many political prisoners have been freed and censorship relaxed.
Secretary of State Hillary Clinton was previously the most senior US official to go to Burma when she visited in December 2011.
The BBC's Kim Ghattas in Washington describes the move as another reward for Burma as it continues on the path towards reform.
Some Burmese activists say the US is moving too fast in normalising ties with the once isolated nation, adds our correspondent.
But the Obama administration says the moves are an incentive to encourage continued change.
The State Department also said that the mandate for the sanctions remained in place, ready to impose them once more if reforms stall.
The Obama administration has also expressed concern about on-going conflict in Burma's ethnic areas such as Rakhine.