South Korea ruling party protests over leader painting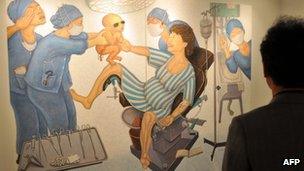 South Korea's ruling party has demanded an apology from a well-known painter over a satirical painting of its presidential candidate giving birth to her father.
Artist Hong Sung-dam depicted Park Geun-hye, daughter of former President Park Chung-hee, in a hospital delivery room, smiling as she delivers a baby.
The baby, wearing sunglasses, has features resembling Ms Park's father.
Officials from the Saenuri party say that the painting is defamatory.
The painting is part of an exhibition in the capital, Seoul, that offers a critical perspective on Mr Park's term in office. It shows one doctor saluting the newborn, with another flashing the V sign.
Ms Park is the candidate of the conservative ruling party for presidential elections in December.
Her father seized power in a military coup in 1961 and ruled until he was assassinated by his spy chief in 1979. He boosted the economy, but was accused of ruthlessly crushing dissent and delaying democratic development.
Officials from her party said the painting was an attempted character assassination and that they are considering legal action.
Mr Hong however said that the work was a satirical criticism to warn against authoritarianism.
"If a painting like this should be punished by law, then all political cartoons in newspapers should be punished nearly every single day," he told Agence-France Presse news agency.
"Park's supporters tend to blindly worship her as if she is a goddess... but that's not the way voters in a democratic society should support a politician."
The artist was previously jailed for a mural praising North Korea but was cleared of most charges by the Supreme Court.
Ms Park, who has never married and does not have any children, has described herself as "married" to the country.
She sought the presidency in 2007, but her party nominated Lee Myung-bak, the current South Korean president.
This is not the first time family issues have dogged her election campaign, says the BBC's Lucy Williamson in Seoul.
She was forced to apologise for human rights abuses committed under her father, to try to end the debate over his legacy and her feelings about it, our correspondent adds.
Opinion polls currently place her ahead of the main opposition for the forthcoming elections.