Afghanistan opium harvest drops by a third - UN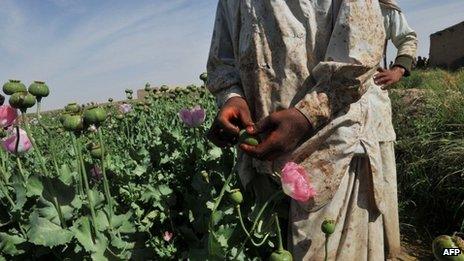 Opium production in Afghanistan has fallen by a third, according to a United Nations report.
More farmers have been trying to grow the crop as the price of opium has been rising.
The fall in the harvest is being attributed to bad weather and disease.
The rise in the area devoted to growing opium poppies came despite the intensification of government eradication efforts, with almost 10,000 hectares of the crop eradicated in 2012, UNODC reported.
Cultivation was concentrated in the south and west of the country in areas where "insecurity and organised crime are present", UNODC said.
The number of provinces with "poppy-free" status remain unchanged at 17, according to the report.
The UN says the correlation between insecurity and opium cultivation has been apparent for several years.
"Improved living conditions, including greater security and rule of law, should be encouraged in Helmand and nationwide if we are to help poor farming communities to support themselves," said UNODC's director Yury Fedotov.
Helmand was the province with the largest amount of land being used for opium production, the report said.
Last year, opium production in the country was reported to have doubled on the back of rising prices for the crop.
Government eradication programmes are deeply unpopular in the south and west of the country, the BBC's Quentin Somerville in Kabul reports.
The Taliban and criminal networks both in Afghanistan and Pakistan profit greatly from the drug, our correspondent adds.
Afghanistan produces more than 90% of the world's opium.