Bangladesh factory fire 'troubles' Walmart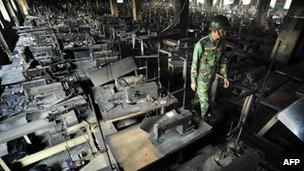 US retailer Walmart says it is troubled that a supplier subcontracted work without authorisation to a factory hit by a lethal fire in Bangladesh.
Walmart said it was cutting ties with the supplier.
The fire at the Tazreen Fashions plant outside the capital, Dhaka, killed more than 100 people last weekend.
The deaths triggered large protests in Dhaka, and many factories are shut ahead of a day of mourning on Tuesday. The cause of the fire is unclear.
Walmart did not name its supplier, which it said had subcontracted work "in direct violation of our policies".
"The fact that this occurred is extremely troubling to us, and we will continue to work across the apparel industry to improve fire safety education and training in Bangladesh," the firm said in a statement.
Witnesses said the building in which the blaze happened lacked emergency exits. A number of people reportedly leapt to their deaths from windows as they tried to escape.
Workers and relatives of those who died vented their anger on Monday as thousands protested in Dhaka, demanding better protection.
Fatal fires are common in Bangladesh's large garment manufacturing sector.
Lax safety standards, poor wiring and overcrowding are blamed for causing several deadly factory fires every year.
"This disastrous fire incident was a result of continuing neglect of workers' safety and their welfare," Amirul Haque Amin, the president of Bangladesh's National Garment Workers Federation, was quoted as saying by Reuters news agency.
"Whenever a fire or accident occurs, the government sets up an investigation and the authorities - including factory owners - pay out some money and hold out assurances to improve safety standards and working conditions. But they never do it."