Indonesia's Papua policemen killed in attack on outpost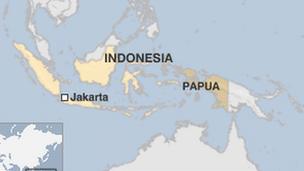 Three policemen have been killed in Indonesia's Papua province after unidentified gunmen attacked a police outpost in the area, officials say.
Dozens of armed men stormed the Pirime police outpost in Jayawija district and set it on fire on Tuesday, police say.
The attack comes before this weekend's anniversary of the foundation of the Free Papua independence movement.
Papua became a part of Indonesia in a controversial election in 1969 that many Papuans say was a sham.
A police spokesman said about 50 suspected separatists armed with spears and rifles took part in the attack, seizing guns from the police station before disappearing into the jungle.
Two policemen were killed at the outpost and the assailants took with them a third officer, who was later found dead, the spokesman said.
The authorities in Papua have been beefing up security in anticipation of the anniversary of the Free Papua Organisation's declaration of independence from the Dutch on 1 December 1961.
"We had identified the hotspots in Papua and even prepared additional troops from the mobile brigade," said Sr Cdr Wachjono, chief detective of the Papua police, who only uses one name.
"The modus operandi is similar to the separatists' attacks," he said.
There are currently 14,000 police officers in Papua, one of Indonesia's least developed but most resource-rich provinces.