Osama Bin Laden doctor Shakil Afridi 'not on hunger strike'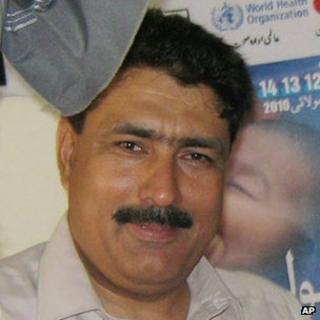 Prison officials have denied that the Pakistani doctor jailed for his role in the US raid that killed Osama Bin Laden is on hunger strike.
Peshawar Central Jail's assistant superintendent, Ayub Khan, told the BBC that he had seen Shakil Afridi eating in his cell.
Earlier, sources including Dr Afridi's brother said he had began a strike to protest against conditions in jail.
He is currently being held in solitary confinement.
He was jailed for supporting a militant group, but it is widely believed he is being punished for helping the US.
Correspondents say it is generally acknowledged that the 33-year sentence he received in May for funding and supporting a banned militant group was in retaliation for helping the US Central Intelligence Agency (CIA) in its hunt for the al-Qaeda leader.
He is alleged to have used a fake vaccination campaign to try to get DNA samples from the Bin Laden family, but Dr Afridi has been quoted as saying that he was unaware of his role in Bin Laden's death.
He began his hunger strike in Peshawar Central Jail earlier this week, according to his brother Jamil, who says he was told by a source in the prison.
He says Dr Afridi has been ill-treated ever since giving a phone interview to US network Fox News from his prison cell in September, and has not been allowed to see relatives.
But prison official Mr Khan said he visited Dr Afridi's cell after reading the reports of the hunger strike and found him eating lunch while sitting on prayer mat.
Bin Laden
Dr Afridi told Fox he had not realised that the CIA was targeting Bin Laden: "I didn't know about a specific target apart from the work I was given to do.
"I was aware that some terrorists were residing in that compound, but I didn't know who. I was shocked. I didn't believe I was associated with his killing."
He also claimed that he had been kidnapped and tortured by Pakistani intelligence.
Bin Laden's killing created a crisis in relations between the US and Pakistan, whose government was seriously embarrassed as it emerged that the al-Qaeda leader had been living in Pakistan.
Islamabad felt the covert US operation was a violation of its sovereignty.
Both US Defence Secretary Leon Panetta and Secretary of State Hillary Clinton have said Dr Afridi's arrest was a mistake, and called for his release.