Japan's police raid tunnel operator after collapse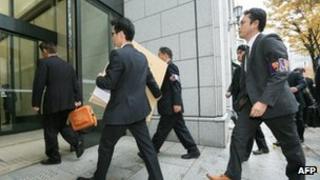 Police in Japan have raided the offices of the company responsible for operating the Sasago tunnel that collapsed on Sunday.
Local television showed police entering the main office of Central Nippon Expressway (Nexco) in Nagoya City.
An inquiry is under way after nine people died following the collapse of concrete panels that started a fire in the tunnel, 80km (50 miles) from Tokyo.
Japan has also ordered emergency inspections of other road tunnels.
"Yes they are searching our offices here. We will be fully co-operating with them," company spokesman Osamu Funahashi was quoted by the Associated Press news agency as saying.
Police were also at the company's office in Otsuki City in Yamanashi prefecture, a spokesman said.
The twin-bore Sasago tunnel on the Chuo Expressway in Yamanashi prefecture is one of the longest in Japan at 4.3km (2.7 miles).
In the accident, 270 concrete slabs, each weighing 1.4 tonnes, came crashing down at about 08:00 local time on Sunday (23:00 GMT, Saturday).
Japanese media say that the company that owns Sasago had relied on rudimentary visual inspections there, with no reinforcement or repairs since construction in 1977.
A Nexco official has been quoted as saying that metal rod failure could have been to blame for the collapse.
Rescuers on Monday had started bringing out the bodies of those who were killed in the incident, some of whom were badly burned and not easily identifiable.
The country's highway network has more than 1,500 tunnels and officials estimate that about a quarter of these are more than 30 years old.