Bangladesh blaze factory 'had no safety certificate'
By Anbarasan Ethirajan
BBC News, Dhaka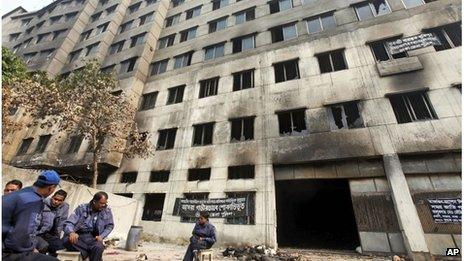 A Bangladeshi garment factory where a blaze last month killed at least 110 people did not have a valid fire safety certificate, a top official has said.
The Director General of Fire Service and Civil Defence, Abu Naim Mohammad Shahidullah, told the BBC that the factory's certificate had expired in June and was not renewed.
Operating a factory without such a certificate is technically an offence.
But experts say that the rules relating to such certificates are often flouted.
Some factories are believed to have obtained such certificates retrospectively.
"The fire safety certificate was given [to the factory] last year," Mr Shahidullah said.
"But he [the owner] is supposed to get it renewed this year any time after June 2012. We gave him a reminder that he should contact us for renewal. It was not done."
Mr Shahidullah said the fire safety certificates are issued annually to factories and that the owner of Tazreen Fashions Limited did not have valid documentation for the period between July 2012 and June 2013.
"If they had come [to us] earlier then the factory would have checked by our inspectors," he said.
The latest information raises questions over how the factory was allowed to make clothes for Western retailers and fashion brands without the correct safety paperwork.
The factory was making clothes for Western retailers including Walmart, C&A and The Edinburgh Woollen Mill at the time of the fire.
Officials say more than 1,100 workers were at the factory when the fire started on 24 November on the ground floor of the nine-storey building on the outskirts of Dhaka.
Soon after the fire accident, Walmart said it was troubled that one of its suppliers had sub-contracted work without authorisation to the Tazreen factory and that it was terminating the services of the supplier.
There has been no immediate response from the factory owners about why they did not renew their fire safety licence after June 2012.
Another official from the fire service department, Abdus Salam, said that fire extinguishers and other appliances at the factory that could have stopped the blaze were not used.
He also said a government inquiry into the fire would submit its report later this month.
Thousands of garment-factory workers have protested since the fire demanding better safety standards in clothing factories.
Bangladesh last year exported about $19bn (£11bn) of ready-to-wear clothes, mostly to European countries and the US.
The sector employs more than three million people, most of them women from rural areas.
Related Internet Links
The BBC is not responsible for the content of external sites.