Nepal Maoists protest outside party's Kathmandu headquarters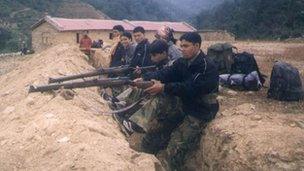 Hundreds of former Maoist fighters in Nepal, including former child soldiers, are camping outside the party's headquarters in Kathmandu to demand equal treatment for retired combatants.
They told the BBC that they have been protesting for 10 days and will continue until their demands are met.
Meanwhile President Ram Baran Yadav has extended a deadline given to political parties to agree a new coalition.
Once in place, the coalition will oversee elections.
The vote is due to be held some time next year.
The leaders of the main parties have been in talks all week to agree a deal on the political make-up of the new government, missing a deadline that had already been extended by a week.
Nepal has been governed by a caretaker Maoist-led administration since the collapse in May of an interim assembly that had failed to draft a new constitution following a 10-year civil war that ended in 2006.
The BBC's Surendra Phuyal in Kathmandu says that the protesters have been disqualified from receiving retirement pay-outs because they are either under-age or do not meet the criteria for such payments as laid out by the United Nations Mission in Nepal (Unmin) a few years ago.
Our correspondent says that about 400 protesters are living in tents outside the headquarters.
Protest spokesman Sagar Limbu said that more than 4,000 disqualified combatants are awaiting "proper treatment and compensation from the party and the government".
Nepal's major recently parties agreed to accommodate 6,500 out of 19,000 former combatants into the army. But only 1,500 actually joined up, while the rest chose to opt for voluntary retirement which guaranteed pay-offs up to 600,000 rupees ($7,000).
The government recently said it would give 200,000 rupees ($2,300) each to disqualified combatants, but officials say that these payments have been delayed because they are being challenged in the courts.
Related Internet Links
The BBC is not responsible for the content of external sites.