'Eight dead' in Pakistan militant attack near Bannu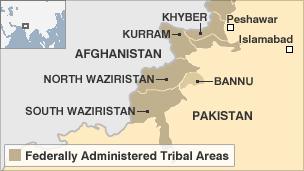 At least eight people were killed after militants stormed a police station near Bannu, a town bordering Pakistan's tribal areas, police say.
Details of how the attack unfolded are unclear. Reports say militants attacked the station with grenades and arms sparking a gun battle.
Three policemen and two attackers were killed as were three civilians who were at an adjacent mosque, police say.
The Pakistani Taliban have said they carried out the attack.
They said it was to avenge the death of a relative of their former chief Baitullah Mehsud.
The attack on the police station lasted for about an hour and the nearby mosque and shops in the area were also damaged during the attack.
The Pakistani Taliban frequently target security forces in Pakistan's volatile north-west.
This attack happened in the Kaki area, 13km (eight miles) south-west of Bannu.
The region is adjacent to the North Waziristan tribal area, known as a stronghold for a number of militant factions.