North Korea extends rocket launch window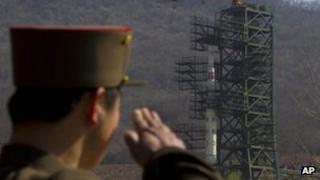 North Korea has said it is extending the window for it latest rocket launch by a week because of a "technical deficiency" in an engine module.
The rocket had been due to be put into space between 10-22 December. State news agency KCNA now says that period has been lengthened until 29 December.
North Korea says it plans to put a satellite into space.
But the US says the launch constitutes a test of long-range missile technology banned under UN resolutions.
Both the US and North Korea's neighbours have urged it not to go ahead with the launch - its second this year.
The US has moved navy ships into position to track the rocket, which is expected to fly south and pass to the east of the Philippines.
Japan has also deployed ships and land-based missile defences, and on Friday issued an order to its military to shoot down any rocket debris that infringed its territory.
In a statement, an unidentified spokesman for the Korean Committee of Space Technology said experts had found a "technical deficiency in the first-stage control engine module of the rocket", KCNA reported, without elaborating.
Technicians were "pushing forward" with final preparations for the launch, it said.
The launch period includes two key dates - 17 December marks the first anniversary of the death of North Korean leader Kim Jong-il and 19 December is when South Korea's presidential election takes place.
North Korea's last launch, in April 2012, resulted in failure, with the rocket breaking up after flying for a brief period.
It has not yet successfully launched a three-stage rocket, despite four attempts since 1998.
The US and its allies say the rocket launches represent banned tests of ballistic missile technology because the basic technology is the same.
North Korea is believed to be working on the development of a long-range missile capable of reaching the west coast of the US mainland.