Lives shattered by Typhoon Bopha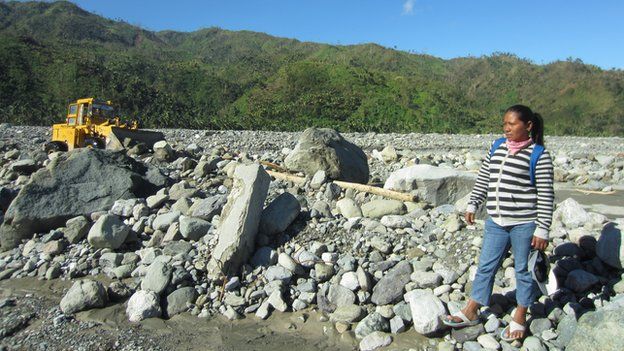 It is nearly a week since Typhoon Bopha hit the southern Philippines, but there are still many bodies to recover from the devastated province of Compostela Valley.
Jovilyn has lost six relatives. The body of only one has been found.
"Some of our family members are still underneath those stones - it's starting to smell," she said, turning away and putting a handkerchief over her face.
Jovilyn's new home is the grandstand of the local running stadium - just 10 minutes' walk from her virtually obliterated village.
People are trying their best to make it habitable. Small cooking areas have been set up, children play with paper aeroplanes and families have even brought their dogs and cats with them.
Chickens are tied up the railings at the front of the stand.
But despite these attempts, many people look lost, as if they simply cannot comprehend what has happened to them.
Remy Camarling was with his family at home when floods came cascading down the mountainside.
"Large tree trunks hit our house, including my motorcycle and all our belongings," he said.
His wife is on the list of the hundreds of missing from New Bataan town - and he admits he has little hope of seeing her again alive.
His children are not with him in the grandstand - all three are injured, and receiving treatment in hospital.
For Mr Camarling, one of the hardest things to come to terms with is that he knew the typhoon was coming - as did most people here. Yet he chose to ignore advice to seek shelter.
"We were indeed informed there would be a typhoon, but we didn't listen. We never thought this would happen to us. Our ancestors, our grandparents - it never happened to them," he said.
"That's a regret on our part," he added quietly.
The United Nations says this typhoon is a stark example of how early warnings save lives.
Last year, when Tropical Storm Washi hit the southern Philippines, people had no warning at all and about 1,300 people died - many in the town of Cagayan de Oro.
Cagayan de Oro was in the path of Typhoon Bopha as well, but the memory of Washi is still fresh. This time, people near the rivers all moved to higher ground and not a single life was lost.
But looking at the devastation in New Bataan and Jovilyn's village of Andap, it is difficult to believe that, even if everyone had heeded evacuation warnings, there would not have been substantial loss of life.
The area is prone to landslides and flooding anyway, and the typhoon made matters much, much worse, bringing rocks and mud over a huge area several miles long.
Given the risks, some officials are questioning whether people should go back to those areas at all,.
Both Jovilyn and Mr Camarling say they are willing to move and start again somewhere else - a view clearly shared by many, given the number of people who are packing up what possessions they have left.
But despite the fact she cannot even see any remains of her house - she has to point to the remains of a school to show me even vaguely where it was - Jovilyn says she has little choice but to return.
"If I had the means I'd actually like to move out. But I have to come back here because this is the only land I have."
Related Internet Links
The BBC is not responsible for the content of external sites.