Australian court rejects sex case against former Speaker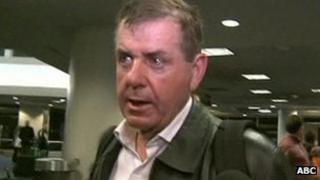 An Australian court has rejected a sexual harassment case filed against former Speaker of Parliament Peter Slipper, who had been forced to resign.
The case filed by his colleague, James Ashby, was a "political attack", the court ruled, ordering Mr Ashby to pay Mr Slipper's fees.
Mr Ashby said he was disappointed with the decision and would lodge an appeal.
Mr Slipper stepped aside from his post in April amid the claims by Mr Ashby, a former parliamentary staff member.
Mr Ashby had provided lurid text messages from Mr Slipper, who officially resigned in October, as part of his lawsuit.
"I have reached the firm conclusion that Mr Ashby's predominant purpose for bringing these proceedings was to pursue a political attack against Mr Slipper and not to vindicate any legal claim he may have," Federal Court Justice Steven Rares said.
"To allow these proceedings to remain in the court would bring the administration of justice into disrepute among right-thinking people and would be manifestly unfair to Mr Slipper."
'Inflict damage'
Mr Slipper, who is married, said he felt "vindicated" after going through "an extremely traumatic time" with his family.
"I have always maintained that Mr Ashby's application was about manipulating the justice system to inflict damage on my reputation and political career, and to advance the interests of the Liberal National Party," he said.
Mr Ashby however said he would appeal the decision.
"There's been a determined campaign to try and prevent the substantive allegations being heard and judged in open court and to put me at a maximum cost in pursuing justice," he told reporters.
The move by Mr Slipper, a former opposition lawmaker, into the Speaker's post had helped secure Prime Minister Julia Gillard's wafer-thin parliamentary majority.
Ms Gillard's defense in parliament in October of Mr Slipper prompted a heated exchange between her and opposition leader Tony Abbot, in which Ms Gillard lambasted Mr Abbot as a misogynist.